Expanding the Food Cold Chain for a Healthier Planet
According to the United Nations Food and Agriculture Organization (FAO), food waste contributes as much as 4.4 Gigatonnes CO2e annually in greenhouse gas emissions.  (http://www.fao.org/docrep/018/ar429e/ar429e.pdf)
Industry can facilitate the reduction of food waste and its negative environmental impact by promoting greater access to food preservation technology and promoting the development and utilization of cost-effective, energy-efficient equipment with reduced environmental impact.  
GHG Emissions from Refrigeration
Direct Emissions

Due to refrigerant leakage

Current HCFC and HFC refrigerants have GWPs of 1000-4000

Indirect Emissions

Due to energy use from refrigeration system operation

Mostly CO2 (GWP of 1) from electricity generation
Total Refrigeration System GHG Emissions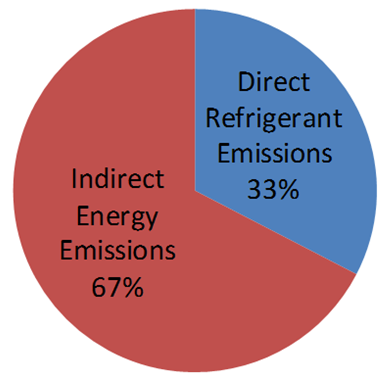 Source: Gluckman, Ray. "Refrigeration equipment and refrigerants used in the cold chain." Presentation, Advancing Ozone & Climate Protection Technologies & Policies: The Food Cold Chain, Montreal, November 21, 2015.
A cold chain using energy efficient low-GWP technologies will reduce its own carbon footprint while better protecting food supplies to feed more people.
An Industry Response
At the September 2014 United Nations Secretary-General's Climate Summit in New York City, a coalition of major companies from the supply chain necessary to move cold food products from field to market around the world announced the organization of the Global Food Cold Chain Council (GFCCC).  
The GFCCC was formed as one of four lines of action organized under the United Nations Environment Programme's Climate and Clean Air Coalition (CCAC) HFC Initiative that were unveiled at the event.  The Council seeks to simultaneously reduce food waste and related greenhouse gas emissions in the processing, transportation, storage and retail display of cold food by expanding and improving access to energy-efficient low-global warming potential technology.
The GFCCC is committed to work with CCAC partners and others to advance broad-based public-private collaborative solutions to maximize the benefits of an expanded food cold chain.
Successful implementation will generate economic and social value from:
Improved:
Human health
Food supplies, safety and quality
Sustainable agriculture practices
Workforce development
Manufacturing
Economic activity.
and reduced:
Food waste
Water consumption
Greenhouse gas emissions
A sustainable cold food cold chain will be an economic, social and environmental net-positive.  Opportunities exist at each stage in the supply chain:
Food loss prevention (pre-consumer),
Equipment enhancement and
Food waste prevention (post-consumer).
The GFCCC is driving policy change through:
Research – Building the Knowledge
Outreach – Building or Strengthening the Connections
Implementation – Deploying Knowledge through Connections
GFCCC Milestones
In November 2015, the GFCCC, along with CCAC, the US and Canadian environment ministries as well as the industry coalition, the Alliance for Responsible Atmospheric Policy, hosted a highly successful conference in Montreal, "

Advancing Ozone and Climate Protection Technologies and Policies: The Food Cold Chain

."  This was an opportunity to assess the state of technology development and deployment of energy-efficient low-GWP technology in the cold chain to reduce food loss and featured panelists from governments and companies around the world.
In December 2015, in the margins of the 21st Conference of the Parties (COP) to the UN Framework Convention on Climate Change in Le Bourget, the GFCCC unveiled the results of a groundbreaking study it commissioned with the firm Deloitte.  This study built on the results of the aforementioned FAO study to assess the climate impacts of an expanded food cold chain.  The results of that assessment were overwhelmingly positive in pointing to a strategically broader reach of the food cold chain as one solution to the climate challenge of food loss and waste.  As a consequence of this engagement at the COP, the GFCCC drew the attention of major media sources and government officials to the issues of food loss and waste.  In the future, the GFCCC will work with partners across the public and private sectors to better understand the range of benefits from reduced food loss and waste.
GFCCC member companies have individually been leaders in the development of and discussions around technology to drive sustainability, including the annual World Cold Chain Summit.  At the December 2015 and 2016 events in Singapore, the FAO, GFCCC and numerous companies explored the potential for a multi-sectoral, public-private cooperation to identify and holistically pursue opportunities to reduce food loss and waste with cold chain technologies.  GFCCC member companies also participate in key industry associations, including the Global Cold Chain Association (GCCA), and regularly engage institutions around the world on issues relevant to the use of refrigeration to address food loss and waste.
In January 2016, the GFCCC briefed the President's Council of Advisors on Science and Technology (PCAST) in Washington, DC on potential food security and environmental benefits of food cold chain expansion.  The meeting was attended by the President's science advisor as well as representatives from all key ministries related to food loss and waste.  Indeed, it was the highest-level meeting in the administration to date on the topic of food waste and loss.
Mission and Goals
The GFCCC's mission is to simultaneously reduce food waste and its related emissions by expanding and improving the food cold chain. Its overall goals specifically include the following:
Identify, develop and promote technology-neutral policies and actions to reduce the food cold chain waste contribution to greenhouse gas emissions;

Support solutions that are energy efficient and reliant on low-GWP compounds and equipment that increase access to the food cold chain and reduce food waste;

Identify and develop standards and practices to increase access to the food cold chain and reduce food waste; and

Align with and influence international and national bodies, organizations and governments, including the FAO, CCAC, the UN Framework Convention on Climate Change (UNFCCC), and the Montreal Protocol.
Sustainable Food Cold Chain
Includes:

Focus on right equipment for task

Continuous energy efficiency improvements

Reliance on low-GWP refrigerants

State of the art refrigerant management practices
Food Cold Chain Cooperation
Capacity building for developing country economies

Assessment of agricultural practices and opportunities

Adoption of complementary policies

Funding for sustainable food cold chain expansion
Next Steps…
Food cold chain white paper development
Food cold chain research cooperation
Food cold chain country studies
Individual commodity case studies
Identify opportunities to collaborate with relevant bodies: industry associations, US Government, UN Environment Programme's Climate & Clean Air Coalition, other UN implementing agencies
View these figures and more in our most recent GFCCC Slide Deck.